Advantech and AWS to offer combined benefits of leading-edge IIoT technologies
8/6/2021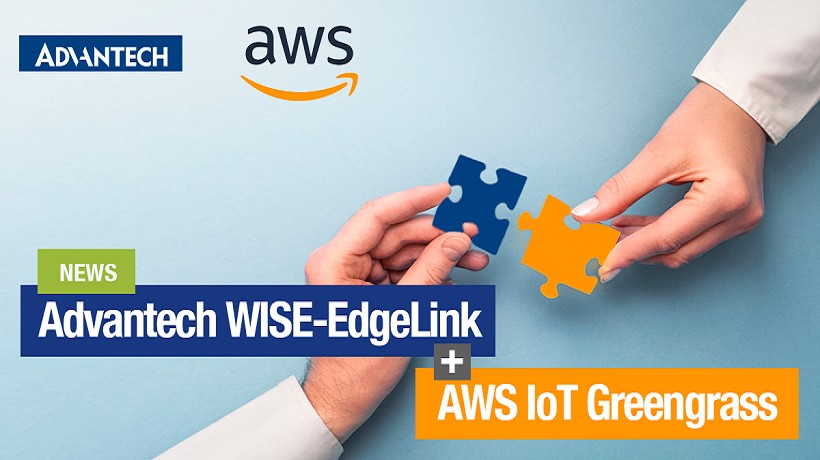 Integration of Advantech WISE-EdgeLink into AWS IoT Greengrass creates powerful edge-to-cloud solution for system integrators
Advantech (TWSE: 2395), a global leader in Industrial Internet of Things (IIoT), collaborates with Amazon Web Services (AWS) to deliver outstanding solutions. Customers will uniquely benefit from the pre-integration of Advantech's WISE-EdgeLink technology and the AWS IoT Greengrass service to connect devices in manufacturing facilities.
WISE-EdgeLink offers a complete protocol-conversion lightweight gateway software supporting more than 200 PLCs and communication protocols (e.g., Modbus, DNP3, OPC-UA, MQTT, and IEC-60870-5-104) to enable data collection from legacy devices. WISE-EdgeLink simplifies the data integration and supports user-defined data acquisition periods for each input interface, thereby reducing the volume of data transmitted and stored on the cloud. This combined with the software's plug-and-play functionality dramatically reduces programming efforts and ensures easy application development and deployment.
AWS IoT Greengrass is an IoT open-source edge runtime and cloud service that helps you build, deploy, and manage device software. This enables devices to collect and analyze data closer to the source of information, react autonomously to local events, and communicate securely with each other on local networks. Local devices can also communicate securely with AWS IoT Core and export IoT data to AWS.
The collaboration will enable customers to speed up their proof of concept (PoC) and proof of value (PoV) projects and make financial savings by leveraging the power of these key tools to connect Operational Technology (OT) with Information Technology (IT).
Advantech now has a dedicated offering for systems integration partners building on AWS. Partners of Advantech will be able to access one of the world's largest IIoT product portfolios, benefiting from Advantech's position as a global market leader in industrial PCs and leveraging the Advantech network to achieve their own business goals.