Microsoft Azure + Advantech WISE-PaaS Accelerate the Development of IoT Applications
3/31/2021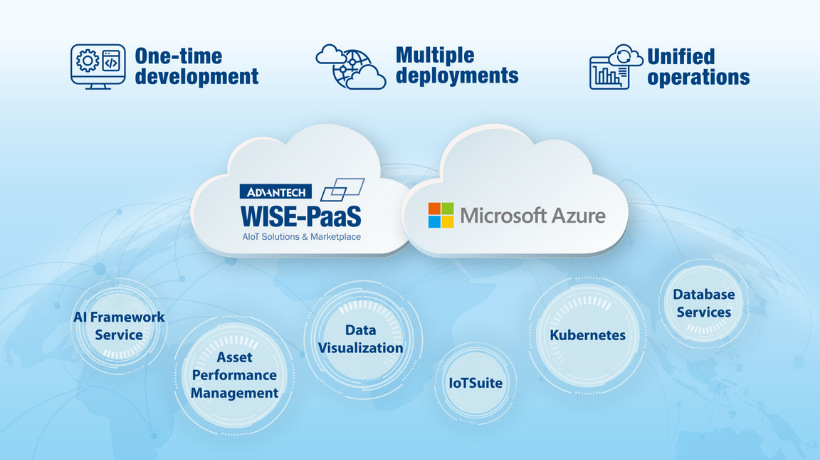 To assist various industries in swiftly deploying IoT applications, Advantech utilizes Microsoft Azure IoT and AKS services to support the upgrade of the WISE-PaaS technical architecture. This allows domain-focused solution integrator (DFSI) partners to meet their IoT deployment goals of one-time development for multiple deployments with unified operations.
With the lightning speed advancement of AI and 5G, coupled with the maturity of edge computing, the workload of IoT is gradually shifting from the core (enterprise data center) to the cloud and network edge. To help global enterprises accelerate the deployment of edge and cloud integrated smart applications, Advantech offers Microsoft Azure based WISE-PaaS public cloud services. This allows global DFSIs to develop industrial IoT applications in various fields and accelerate the implementation of smart applications globally.
Azure Drives Smart Applications with AI, Database, and IoT Services
Eric Chu, director of Embedded IoT Group at Advantech, pointed out that Azure is an Infrastructure as a Service (IaaS) open cloud platform. "Its biggest feature is the integration of innovative development tools or software packages, which allow partners to quickly utilize cutting-edge technologies and develop smart applications. For example, Azure AI Service includes tools such as machine vision, semantic recognition, and synthesized speech, allowing developers to quickly add AI functions to applications. Azure Database Service includes virtual computing and visual analysis tools, allowing developers to focus on application development instead of managing the database. Azure IoT Suite provides tools such as time series insights, device twinning, and IoT Edge, allowing IoT application developers to build more flexible solutions based on industry demands, as well as to be fit for the edge and cloud IT environment."
Eric further explained, "To strengthen Azure services, Microsoft has been promoting several open strategies in recent years to encourage more partners to join their ecosystem, such as supporting the non-profit open-source organization of the Apache Software Foundation, and recruitment of professionals to innovate Kubernetes (K8s) technology. Furthermore, to assist system developers to quickly develop applications, Microsoft is also constantly innovating module services for use in various industries. For example, in response to the COVID-19 epidemic, the cloud for healthcare service was launched, which integrated Azure's latest healthcare functions, such as health bot, which greatly assisted in the innovation of more smart healthcare applications."
Advantech and Microsoft Cooperate Closely with a Clear and Open Mindset
While Microsoft is building the Azure ecosystem, Advantech is linking up IoT ecosystem partners with its co-creation strategy, and the two parties have been working closely together. In the early days, Advantech was approved as a global authorized distributor of Windows Embedded and now it has been granted as an authorized Azure Cloud Solution Provider. In addition, due to the reliability and security of Azure services, Advantech uses its infrastructure and modularized services to optimize its WISE-PaaS industrial IoT cloud platform to help customers quickly and securely create industrial IoT applications for the Edge and Cloud.
In order to expand WISE-PaaS platform's IoT ecosystem, Advantech used Kubernetes to transform Cloud Foundry based WISE-PaaS 3.0 to WISE-PaaS 4.0, which is a cloud native platform. Microsoft's AKS service was also used for easy deployment and management of containerized applications. Ning Kang, Advantech's WISE-PaaS product director, explained that WISE-PaaS 4.0 mainly adopts container technologies to create a microservices architecture. "Decoupled ser vice components can all operate independently and can be reused, which allow designers to develop applications through distributed collaboration. This makes the WISE-PaaS platform more flexible and easier to use, and enables Advantech and DFSIs' joint development of Industrial Apps."
More importantly, WISE-PaaS 4.0 can integrate Azure's multi-platform features, allowing DFSIs and IoT application developers to deploy SaaS services more quickly. Louis Lu, director of the Embedded IoT Group at Advantech provided a good application example, "We had a European retailer who adopted the Azure cloud platform so they could quickly implement POS solutions to several retail locations. They developed their smart application using WISE-PaaS, which was then deployed and ran on the Azure platform."
Ning Kang added that many companies go through the demonstration and verification process in a single application field before officially deploying IoT applications. "During the process, they will use an intelligent all-in-one edge computing machine to build IoT solutions. After successfully verifying their solution, and they then decide to transfer to the Azure public cloud even when deployment at multiple locations is required, verified solutions can still be migrated or expanded seamlessly due to WISE-PaaS' support for Azure. In other words, WISE-PaaS multi-cloud integration support and management allow enterprise to enjoy one-time development benefits for multiple deployments and unified operation."
On the other hand, to allow IoT applications to grow exponentially, Advantech has put some WISE-PaaS solutions, such as WISE-PaaS/IoTSuite and WISEDeviceOn, on the Azure Marketplace. As a result, DFSIs in different regions can purchase WISE-PaaS solutions on the Azure platform as an industrial app and deploy them in their clients' projects faster and more easily.
WISE-PaaS's Three Framework Services Greatly Benefit IoT Application Deployment
With Advantech technical team's effort and close cooperation with Microsoft, Advantech has successfully created three application framework services for WISE-PaaS 4.0 based on containerization technologies, visualization (WISE-PaaS/Dashboard and WISE-PaaS/SaaS Composer), asset performance management (WISE-PaaS/InsightAPM) and AI framework service (WISE-PaaS/AIFS). These services provide many IoT application deployment benefits for enterprises.
Louis further elaborated on the framework services, "Visualization mainly helps Advantech's partners, such as DFSIs, to communicate clearly through 2D and 3D views with enterprise customers in different application fields. InsightAPM provides assistance on healthcare, manufacturing and many industries to optimize equipment efficiency. Plus, they further enable equipment integration services and offer after-sale maintenance services."
WISE-PaaS/AIFS
allows Advantech to quickly upgrade regular embedded devices to Edge AI devices, helping more customers accelerate the utilization of AI for various IoT applications. Louis further explained, "Because AI's self-learning capability enables continuous improvement on accuracy, the most important thing is life cycle management, for which AIFS collects a lot data for training and building inference engines. Therefore, if hundreds or even thousands of Edge AI devices are to be deployed in the field, AIFS can provide rapid deployment and up scaling."
Undoubtedly, diversity and openness are keys to accelerating the promotion of smart IoT applications. Advantech will continue to sustain an open and innovative mindset and join forces with cloud service providers including Microsoft to build the underlying infrastructure for smart IoT applications. DFSIs and software developers will then be better able to support enterprises with their forward-looking smart IoT applications and deployment.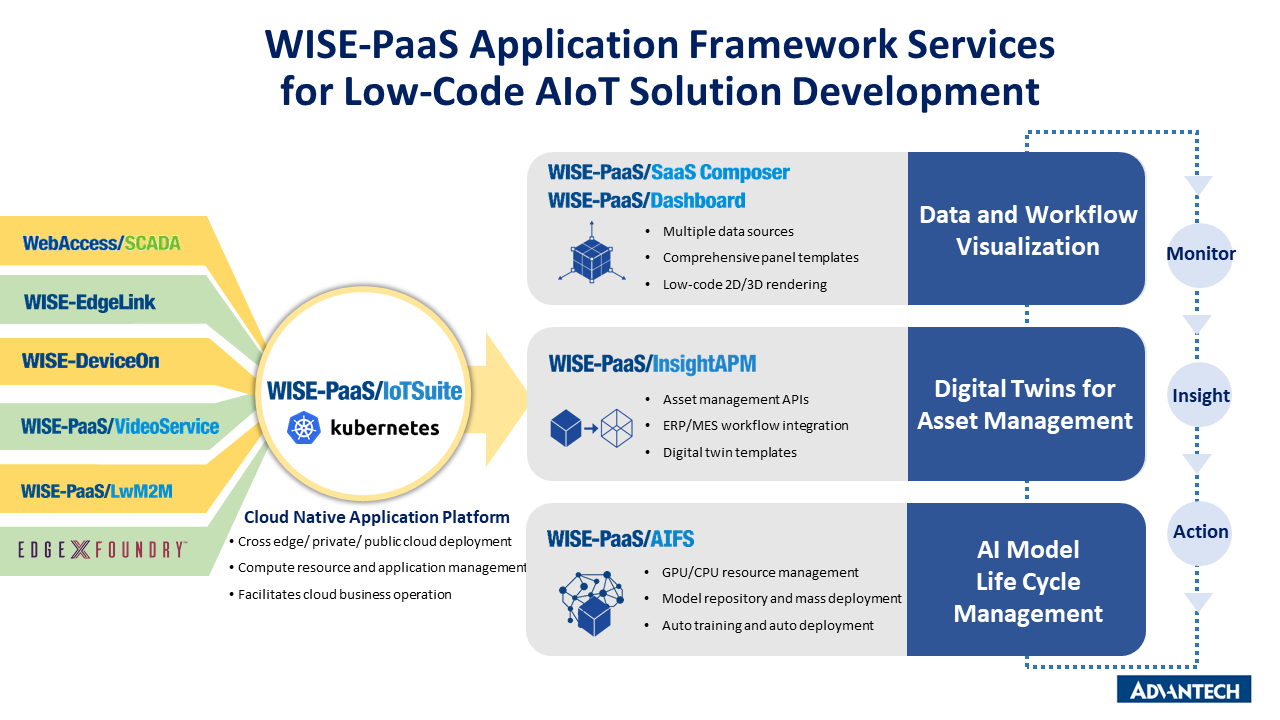 The
WISE-PaaS data application platform
end-to-cloud architecture provides a comprehensive development environment for data collection, analysis, management, and applications, while promoting interoperability between I.Apps via the WISE-Marketplace and accelerating the development of industrial solutions.