Advantech's Software/Hardware Integrated Solution Helps Flywheel Manufacturing Plant Quickly Implement Machine Vision Inspection System
8/26/2019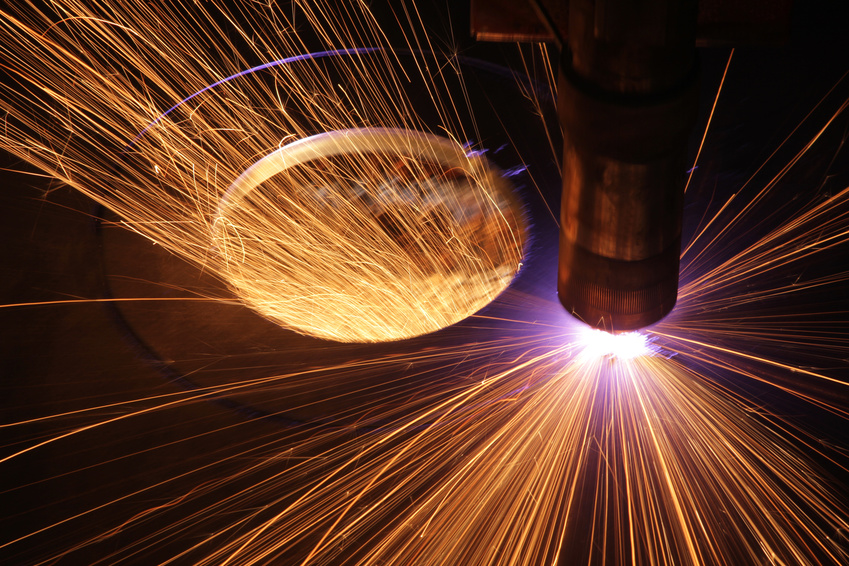 Unlike the human eye, machine vision does not make mistakes due to fatigue and does not face the limitations of cost or manpower. It is considered an ideal tool for determining product defects, measuring product size, and recognizing product appearance. Automated image analysis not only strengthens product quality control but also significantly improves overall productivity.
Even though machine vision is superior in terms of accuracy, reliability, and efficiency when compared to a manual approach, some manufacturers still hesitate to pursue this application. There are several reasons for this: long system development times; compatibility issues integrating hardware components; and issues with maintenance and inspection items that cannot be customized based on specific needs. Companies are reluctant to make a move due to these concerns—causing them to miss out on opportunities for improvement.
In light of this, Advantech uses an intelligent inspection system (ESRP-MVS-AIIS3410) which integrates an industrial camera, processing unit, and application software, to eliminate these concerns. The total solution integrates the entire process—from image sensing, image acquisition to application software—to simplify the project development process and allow for the rapid completion of inspection projects, without any coding, via an easy-to-use program. This significantly reduces system implementation time and subsequent maintenance costs. In doing so, Advantech helps users effectively realize the automated inspection of production lines.
A Taiwanese factory serves as the ODM for a U.S. fitness cycle manufacturer by using its specialized metal processing service to manufacture flywheels. Even though the factory has a dedicated measurement laboratory to inspect the quality of flywheels, it takes over – three minutes to complete each inspection. To avoid negatively affecting production speed and ensure timely deliveries, the production line controls product quality through random inspections along with manual inspections.
Unfortunately, the factory received a complaint when it delivered its most recent batch of flywheels to the U.S. fitness cycle company—who claimed that the quality was poor. This forced production to be suspended and the U.S. company sought compensation for the defects.
To avoid future fines due to poor quality control, the factory decided to implement a machine vision system that inspected all products without affecting production speed.
Although the factory needed to quickly win back the trust of its customer, the implementation of a new system generally required a six-month development period (preliminary project planning, hardware selection, hardware compatibility testing, programming, defect definition and testing, system launch and testing) and couldn't be resolved in a timely manner. This prompted the factory to purchase a total solution that could be completed within a short amount of time (less than three months), was able to execute multiple inspection tasks at once, could add or modify inspection items and products being inspected, was easy to use and maintain, and integrated both hardware and software.
Advantech's intelligent inspection system is a solution that combines VisionNavi machine vision application software, the compact high performance hardware platform AIIS-3410P, and the QCAM-GM2440-035CE five megapixel PoE industrial camera. Highly integrated software and hardware provided stable compatibility and was able to satisfy the factory's need for an easy-to-use system that could be rapidly implemented and execute multiple inspection tasks.
The system's operating process was as follows: When a workpiece entered the inspection range, AIIS-3410P sent a trigger signal to the QCAM series GigE industrial camera after it received a digital signal from the infrared sensor. A camera took a picture of the workpiece for inspection. The photographed image was then sent to AIIS-3410P via the Internet and compared and analyzed by VisionNavi to verify that it met all workplace quality requirements.
All software and hardware used in the ESRP-MVS-AIIS3410 solution were top notch products. The high performance hardware platform was able to process large amounts of graphics data, allowing it to keep up with the industrial camera that took 20 high-resolution photos every second. This ensured the quality of every workpiece was inspected while maintaining high speed production. The VisionNavi software was flowchart-based and featured a friendly user interface for effortlessly developing multiple image comparison functions. It simplified complex machine vision applications to shorten the development process and did not require any coding skills.
For this project, the factory did not have any programmers but it was able to begin using VisionNavi after a few days of training. Compared with typical optical inspection systems that require long development periods, VisionNavi only requires a few minutes to click, drag, copy, paste, and input settings—which are common computer operations—in order to define defects or conforming products and begin inspection of the appearance and size of all flywheels going through the production line. VisionNavi offered a variety of machine vision applications—such as gauge, positioning, guidance, and identification—and was used by the factory for multiple purposes.
AIIS-3400P: Compact Vision System,Supports Intel® 6th / 7th generation Core i CPU, 4-ch Camera Interface for GigE PoE

QCAM-GM2440-035CE: Provides PoE industrial camera with a resolution of 0.3-15 megapixels

VisionNavi: Flowchart-based machine vision software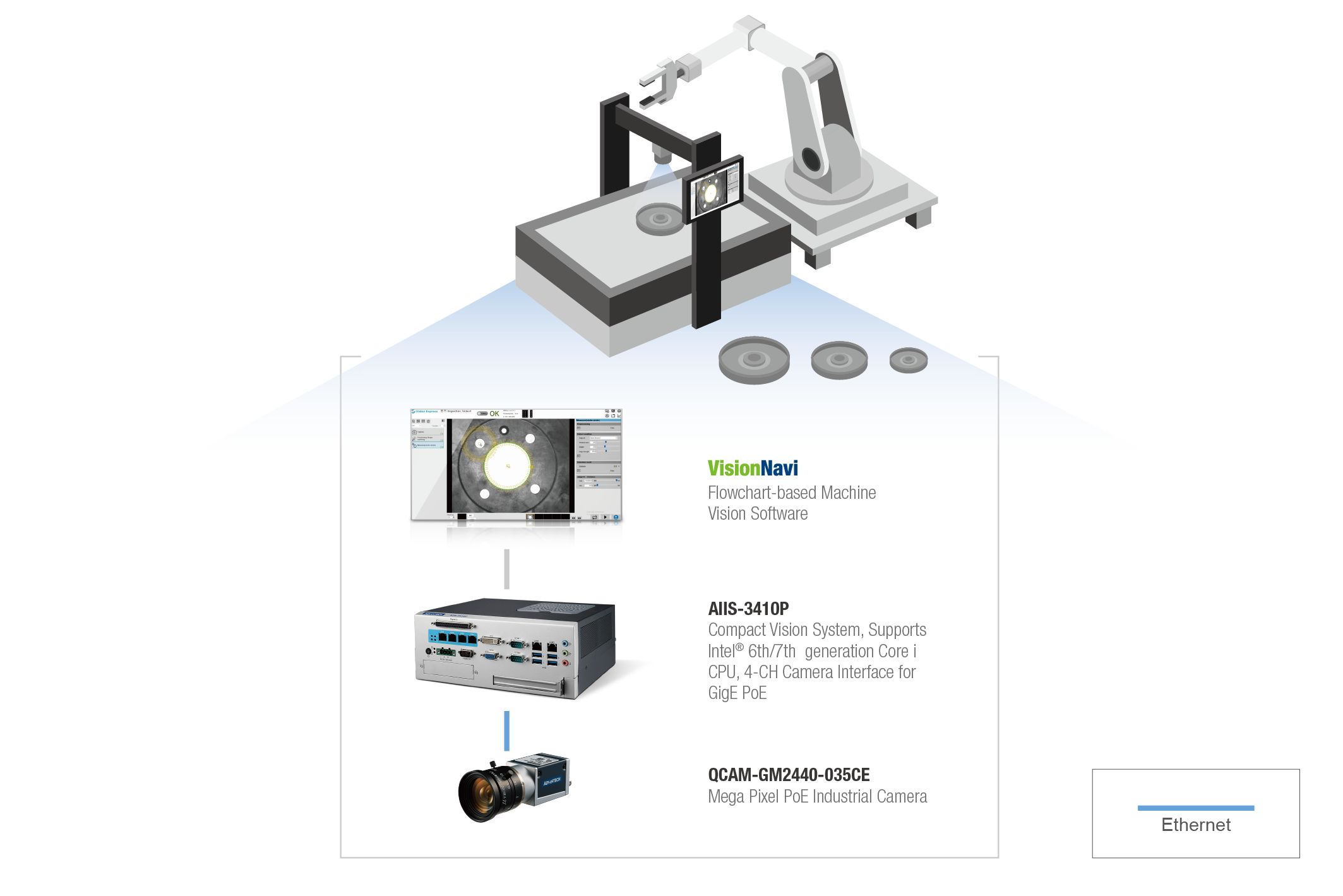 Machine vision inspection is a powerful tool for product quality control in the manufacturing industry. The ability to inspect all products effectively lowers the risk of being fined by customers; making it the best solution for increasing productivity and product quality.
Advantech's intelligent inspection system eliminates the stereotype that optical inspection systems require a long development period and are hard to maintain. A simple, flowchart-based user interface and practical functionality accelerate the speed of system implementation while providing stability and high performance hardware components for multi-task full inspection applications. In this case, by replacing the factory's manual inspection and sampling inspections, quality control issues were resolved. The system offered flexibility for expanding the number of inspection items so that administrators can continue delivering on product quality in the future.