Executive Team
Paul Luo
General Manager of Advantech China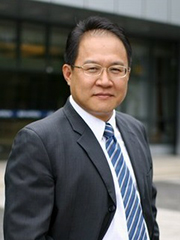 Joined Advantech in 1995
Was Sales Manager of Advantech China, and General Manager of Advantech Shanghai
Paul Luo joined Advantech in 1995 and served as Senior Application Engineer to support product sales in mainland China and Europe, offering services before and after sales for regional direct-marketing groups and marketing channels. Given the business development, in 1996, Paul started to work in Advantech Business Operations Department, selling sell products and serving end customers directly. At that time, he won honors including Top Sales and Top Manager in Taiwan.
In 2000, Paul assumed the role of Product Manager of Network & Communication Business (Asian-Pacific Region) for product planning and technical training in the regional market. He and his teams then launched Advantech IPC-610H and IPC610-610L, which have topped the sales charts for many years and received customer recommendations. Paul transferred to Advantech China in 2003, and since then has served as Sales Director of Network & Communication Business in China, Sales Manager of Advantech China, and General Manager of Advantech Shanghai, etc. Under his leadership, Advantech established more than 10 business agencies in Tianjin, Zhengzhou, Suzhou, etc., and also became partners with several new distributors.
In 2013 Paul took up the post of General Manager of Advantech China, and he has been initiating organizational transformations in accordance with new market trends and the corporate mission. Organizational structure is evolving from region and product-driven to industry and application-driven, with key teams divided by industry market types; development proceeds in client-oriented and industry-focused mode. Paul will also continue to establish strategic plans and goals, encouraging research and development, external cooperation, and constantly cultivating talent to fuel the progress and expansion of Advantech China.